Varanus Fleet Support Vessel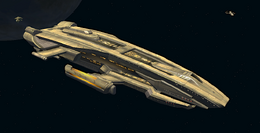 For the playable starship, see Varanus Fleet Support Vessel.
The Varanus Fleet Support Vessel is a battleship used by the Gorn Hegemony. They are built to support other Gorn ships, not unlike science vessels.
Some Varanus Fleet Support Vessels are operated by the Klingon Defense Force, such as the I.K.S. Tul.
Armament
[
]
Fore
[
]
Aft
[
]
Abilities
[
]
Missions encountered
[
]
Vessels of the class
[
]
Notes
[
]
Trivia
[
]
Like all other Gorn starship classes, the Varanus designation is a reference to reptiles from Earth's fauna and/or mythology. The Varanus is the scientific name for the Monitor Lizard, which is found throughout Africa and Asia.
See Also
[
]