Vaur Merol

Vaur Merol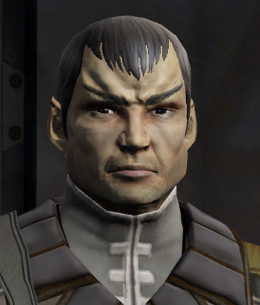 Military Rank:
Subcommander
Profession(s):
First Officer
Subcommander Vaur Merol is the Romulan First Officer aboard the R.R.W. Lleiset.
As first officer, Vaur Merol serves the Lleiset by acting as advisor to Commander Jarok and facilitating cooperation among the Lleiset's crew. Like most Republic personnel, he is no friend of the Tal Shiar.
He stayed in the Romulan Star Empire until the actions of the Tal Shiar compelled him to leave.
"Republic Day": The player visits the bridge of the Lleiset in orbit of New Romulus and meets with Vaul Merol and the rest of his crew.
"Capture the Flag": Merol accompanies the player to the Lleiset's bridge in an effort to retake the ship from the Vaadwaur.