Raise a Floppa - The Loop
Play Sound

Vor'ral Support Battlecruiser
Hull:

| | |
| --- | --- |
| Lvl 50: | 41400 |
| Lvl 55: | 44700 |
| Lvl 60: | 48000 |
| Lvl 65: | 54000 |
Matter-Antimatter
Vor'cha-class
 ~Battlecruiser Variants
Tier 6 Variants
Vor'ral Support Battlecruiser
The Vor'ral-class Support Battlecruiser is a Tier 6 Battlecruiser which may be flown by Klingon Defense Force characters, including Klingon Empire-aligned Romulan Republic and Dominion characters. All faction restrictions of this starship can be removed by having a level 65 KDF character or by purchasing the Cross Faction Flying unlock from the Zen Store. This starship can be used from any level upon completion of the tutorial experience. As you level up, this ship gains additional hull, weapon slots, and console slots.
Players can obtain this starship from the Zen Store for 3,000

 under the name Vor'ral Support Battlecruiser [T6]. This ship can be purchased individually, or as part of the Cross Faction Support Cruiser Bundle [T6] for 4,000

.

Purchasing this starship will unlock a Fleet Ship Module discount when purchasing the Fleet Vor'ral Support Battlecruiser.
Overview
[
]
The Vor'cha class was originally introduced in 2367 as a response to the increasing tensions of the Borg, Dominion, and Cardassian threats that marked this stressful time in history. Over the next few years, this versatile and sturdy warship proved its worth time and again, captained by many different able-bodied Klingon warriors. This updated version of such an honorable lineage has taken the same qualities that made it a staple of the Empire's fleet, and improved them for this new age of conflict, with the intention that the Vor'ral Support Battlecruiser will be the answer to the instability of this age.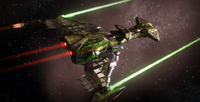 Since the Vor'cha's introduction into service, the design has seen distinguished service in dozens of conflicts, and several iterations have been deployed. Klingon High Command has declared that the Vor'ral class is the culmination of decades of combat experience and scientific development, bolstered with the cooperation of allied scientists and strategists. Under the direction of the Allied Cooperative Starship Development Board and thanks to the unprecedented sharing of temporal technology between Starfleet and the Klingon Defense Force, the Vor'ral class has launched from the Imperial Shipyards at Ty'Gokor.
The ship is rumored to be equipped with Temporal Trajectory Shifter technology, as well as the traditional suite of cannons and cloaking technology seen standard on all Klingon ships. Analysts predict that the Vor'ral-class Battlecruiser will be an important tool to reinforce the depleted Klingon fleet and execute the will of the High Council throughout the galaxy.

Class variants
Class
Information

---

Purchasing the Legendary Vor'cha Command Support Battlecruiser for 25,000 unlocks all existing ship variants.

---

Vor'Cha class

Vor'Cha class (Beta)

SKIN UNLOCK: Free

---

The Vor'cha class is one of the first Klingon cruisers to deviate from the classic design of the K't'inga or D7 class, the Vor'cha has a forked forward section housing the main forward battery. The command section is further back and the neck thicker to accommodate more crew quarters and internal systems.

Players may also select the "Vor'Cha Beta" preset, which applies yellow and red decals similar to the B'rel and Negh'Var classes', as seen on some Vor'cha-class ships starting with DS9: "The Way of the Warrior".

Vor'cha class
K'mpec's Qo'nos One variant

SKIN UNLOCK: Legendary Vor'cha Command Support Battlecruiser, 25,000

---

In his youth,

K'mpec

was a powerful warrior, and an even more cunning politician. He managed to wrangle the ambitions of the great houses of the Klingon Empire and unify the Empire under one banner for a longer rule than any other Chancellor of the High Council had before. After the successful launch of the Vor'cha-class battlecruiser, K'mpec had plans drawn up for an even more powerful variant of the Vor'cha to serve as his personal flagship. Ultimately K'mpec died before the ship could be built, but its plans were recently discovered in the Imperial Archives.

Vor'Kang class

SKIN UNLOCK: Vor'Kang Battlecruiser, 150,000

---

Based on the classic Vor'cha class ships of the late 2360s, the new Refit Vor'Kang class was engineered to combat the growing threat from the Federation.

Tor'Kaht class

SKIN UNLOCK: Fleet Tor'Kaht Battlecruiser Retrofit, 20,000 , 4
OR Fleet Vor'ral Support Battlecruiser, 20,000 , 5

---

One of the latest variants of the Vor'cha-class Battlecruiser, the Tor'Kaht class represents a radical departure from the classic Vor'cha design. Its design instead shares many similarities with the Vo'Quv Carrier.

Vor'ral class

SKIN UNLOCK: Free with this starship

---

Design of the Vor'ral class has been brewing for decades, but seen many changes and offshoots that eventually became entirely new designs across the whole spectrum of mission profiles. Thanks to the sharing of technology between Starfleet and KDF, the Vor'ral has finally launched from the Imperial Shipyards.

Despite having "Vor'ral" in its name, the Fleet Vor'ral Support Battlecruiser does not unlock the Vor'ral-class customization parts.

Kamarag class

SKIN UNLOCK: Any Kamarag-class variant

---

The Kamarag class bridges the design gap between the K't'inga class of the late 23rd century and the Vor'cha class of the mid-24th century. While the ship's head section matches the K't'inga, the rest of it (its thick neck section, Vor'Kang class-styled nacelles) more closely resembles the Vor'cha and her sister classes.

Owning any Kamarag variant (Tier 3, Tier 5, or Tier 5 Fleet) will unlock the Kamarag variant for use on a Vor'cha class vessel.

K'maj class

SKIN UNLOCK: Fleet Kamarag Battlecruiser Retrofit, 20,000 , 4

---

The K'maj class is a slightly modified variant of the original Kamarag-class design. The command section of the forward hull was replaced with a two-pronged variant, the mission pod features forward warp field stabilizers, the warp field stabilizers on the nacelles has been extended to the back of the nacelles, and the impulse generator has been replaced with four smaller ones.
Starship Mastery
[
]
Starship Mastery
BATTLECRUISER
Level
Name
Description
I
Absorptive Hull Plating
+25 Physical Damage Resistance Rating.
+25 Kinetic Damage Resistance Rating.
II
Enhanced Weapon Banks
+15% Critical Severity.
III
Enhanced Hull Plating
+25 All Energy Damage Resistance Rating.
+25 Radiation Damage Resistance Rating.
IV
Armored Hull
+10% Hull Hitpoints.
V
History Will Remember
+Dmg, +MaxHP, +Regen (Stacking, Once Per Foe)

---

For each Foe that damages you, gain 1 stack of History Will Remember (30 stacks max) which grants the following until you leave the map:

+1% All Damage
+1% Hull Regen
Increase Maximum Hull by 1%
+10% Threat Generation (only while Threatening Stance is active)
Abilities
[
]
Universal consoles
[
]
The Vor'ral Support Battlecruiser comes equipped with the [Console - Universal - Temporal Trajectory Shifter].
Specialization seating
The Vor'ral-class Support Battlecruiser features the following specialist seats:

Cloak
The Vor'ral-class Support Battlecruiser has a cloak that allows the ship to cloak when not in combat, granting stealth and a damage bonus upon decloaking.
Cruiser commands
The Vor'ral-class Support Battlecruiser supports the following cruiser commands:

Molecular Reconstruction
Temporal Starships are capable of making subtle alterations on the molecular level through the use of Molecular Reconstruction. This technology allows the starship to assume 1 of 3 different Configurations: Offensive, Defensive and Support.
(+Max Engine Power, +Turn, +Flight Speed, -Incoming Hull Healing)
(+Max Shield Power, +Incoming Hull Healing, -Turn, -Flight Speed)
(+Max Auxiliary Power, +Exotic Damage, +Control Strength, -Energy Weapon Damage)
Each of the configurations generates its own specific counter, which is then used to fuel the Molecular Deconstruction Beam.
(Scaling Physical DoT, Heals Hull, Disable)
Standard configuration
[
]
Klingon starships come with standard equipment and weapons of the lowest mark available at the ship's minimum rank. The items provided are appropriate to the type of vessel and its related playing style.
Scaling starship
This starship's equipment slots, base hull capacity and shield capacity scale as your level increases.
Equipment slots and seating
[
]
As you rank up every 10 levels, up to level 40, the ship's forward weapon slots, aft weapon slots, tactical console slots, engineering console slots, science console slots and available bridge officer (boff) abilities will slowly increase toward endgame capabilities:
Level
Boff seats
0-9
1
2
1
2
2
    
10-19
2
2
2
3
2
    
20-29
2
3
2
3
3
    
30-39
3
3
3
4
4
    
40+
3
4
3
Hull strength
[
]
This table shows how the ship's hull strength scales at each level. The base hull of all scaling starships is 10,000, which is then multiplied by the ship's hull modifier (1.2 for the Vor'ral-class Support Battlecruiser), and then multiplied by the scaling multiplier below at each level.
Hull scaling table
Level
Multiplier
Hull HP
Level
Multiplier
Hull HP
Level
Multiplier
Hull HP
Level
Multiplier
Hull HP
0
1
12000
20
2
24000
40
3
36000
60
4
48000
1
1.05
12600
21
2.05
24600
41
3.05
36600
61
4.1
49200
2
1.1
13200
22
2.1
25200
42
3.1
37200
62
4.2
50400
3
1.15
13800
23
2.15
25800
43
3.15
37800
63
4.3
51600
4
1.2
14400
24
2.2
26400
44
3.2
38400
64
4.4
52800
5
1.25
15000
25
2.25
27000
45
3.25
39000
65
4.5
54000
6
1.3
15600
26
2.3
27600
46
3.3
39600
7
1.35
16200
27
2.35
28200
47
3.35
40200
8
1.4
16800
28
2.4
28800
48
3.4
40800
9
1.45
17400
29
2.45
29400
49
3.45
41400
10
1.5
18000
30
2.5
30000
50
3.45
41400
11
1.55
18600
31
2.55
30600
51
3.505
42060
12
1.6
19200
32
2.6
31200
52
3.56
42720
13
1.65
19800
33
2.65
31800
53
3.615
43380
14
1.7
20400
34
2.7
32400
54
3.67
44040
15
1.75
21000
35
2.75
33000
55
3.725
44700
16
1.8
21600
36
2.8
33600
56
3.78
45360
17
1.85
22200
37
2.85
34200
57
3.835
46020
18
1.9
22800
38
2.9
34800
58
3.89
46680
19
1.95
23400
39
2.95
35400
59
3.945
47340
T6-X upgrade
By using an [Experimental Ship Upgrade Token], the Vor'ral-class Support Battlecruiser may be upgraded to T6-X, unlocking an extra ship device slot, universal console slot, and the ability to slot an extra starship trait.

Note that upgrading the Fleet Vor'ral Support Battlecruiser, the fleet version of the Vor'ral Support Battlecruiser, will not apply the upgrade to this starship.
Ship comparison
[
]
The following table compares KDF T6 Cruisers and Battlecruisers.
Ship

Rank

Tier

Hull

 
 
 

Uni

BOffs

IR

Cost

Klothos Tactical Miracle Worker Cruiser

1

6
53475
1.55
1.15
4
4
✗
4
4
3
4
✗
6
0.16
50
3,000
Qib Intel Battlecruiser

1

6
43125
1.25
1
4
4
✓
3
5
2
3
✗
11
0.17
55
3,000
Kahless War Battlecruiser

1

6
50888
1.475
1.1
4
4
✓
4
5
2
4
✗
6.5
0.15
30
3,000
Negh'Tev Heavy Battlecruiser

1

6
44850
1.3
1
4
4
✓
3
4
3
3
✗
9
0.15
25
3,000
Fleet Qib Intel Battlecruiser

1

6
47438
1.375
1.1
4
4
✓
4
5
2
3
✗
✗
11
0.17
55
20,000  • 5
Fleet Negh'Tev Heavy Battlecruiser

1

6
49335
1.43
1.1
4
4
✓
3
5
3
3
✗
✗
9
0.15
25
20,000  • 5
Fleet Mogh Battlecruiser (T6)

1

6
47438
1.375
1.1
5
3
✓
4
5
2
3
✗
✗
9
0.15
50
20,000  • 5
Na'Qjej Intel Battlecruiser

1

6
53475
1.55
1
5
3
✓
4
5
2
4
✗
10
0.14
40
• 29,500
Legendary Vor'cha Command Support Battlecruiser

1

6
50025
1.45
1.1
5
3
✓
4
4
3
3
✗
10
0.15
30
25,000
Legendary D7 Intel Battlecruiser

1

6
48300
1.4
1.2
5
3
✓
4
4
3
3
✗
12
0.17
60
12,000
Fleet Qugh Miracle Worker Battlecruiser

1

6
47438
1.375
1.045
5
3
✓
4
5
2
3
✗
✗
7.5
0.15
50
20,000  • 5
Qugh Miracle Worker Battlecruiser

1

6
43125
1.25
0.95
5
3
✓
3
5
2
3
✗
7.5
0.15
50
3,000
An'quat War Command Battlecruiser

1

6
49335
1.43
1.1
4
4
✓
3
5
3
4
1
8
0.15
35
3,000
Vor'ral Support Battlecruiser

1

6
41400
1.2
1
4
4
✓
3
4
3
3
✗
10
0.15
30
3,000
Fleet Vor'ral Support Battlecruiser

1

6
45540
1.32
1.1
4
4
✓
4
4
3
3
✗
✗
10
0.15
30
20,000  • 5
Mur'Eq Operations Miracle Worker Cruiser

1

6
53475
1.55
1.1
4
4
✗
3
5
3
4
✗
6
0.16
50
3,000
Antaak Science Miracle Worker Cruiser

1

6
53475
1.55
1.1
4
4
✗
3
4
4
4
✗
6
0.16
50
3,000
Fleet QeHpu' Advanced Light Battlecruiser

1

6
45540
1.32
1.155
4
4
✓
4
4
3
4
✗
✗
11
0.17
40
20,000  • 5
QeHpu' Advanced Light Battlecruiser

1

6
41400
1.2
1.05
4
4
✓
3
4
3
4
✗
11
0.17
40
3,000
Martok Tactical Battlecruiser

1

6
50888
1.475
1.1
4
4
✓
5
4
2
4
✗
6.5
0.15
30
3,000
Gorkon Science Battlecruiser

1

6
50888
1.475
1.1
4
4
✓
4
4
3
4
✗
6.5
0.15
30
3,000
Kurak Battlecruiser

1

6
43125
1.25
1
5
3
✓
4
5
1
3
✗
9
0.15
50
3,000
Ty'Gokor Tactical Command Battlecruiser

1

6
49335
1.43
1.1
4
4
✓
4
4
3
4
1
8
0.15
35
3,000
Klinzhai Science Command Battlecruiser

1

6
49335
1.43
1.1
4
4
✓
3
4
4
4
1
8
0.15
35
3,000
Admiralty ship
[
]
Admiralty Ship
62
27
19
-25% Maintenance per EngShip
Gallery
[
]
Notes
[
]
External links
[
]