Voth Palisade Frigate
This page is for the NPC starship. For the playable vessel, see Voth Palisade Science Vessel.
Incomplete and/or missing data.


This article or section does not list all values or entries associated with the discussed subject. Please add any missing statistics or items to the corresponding tables, lists and placeholders.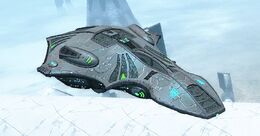 The Palisade-class Frigate is a frigate design employed by the Voth. They are small, maneuverable vessels designed to fight in squadrons of three or more. They are also commonly used to support larger vessels such as the Bastion-class cruiser.
| Level | Standard Difficulty | Advanced Difficulty | Elite Difficulty |
| --- | --- | --- | --- |
| 1 | | | |
| 24 | | | |
| 31 | | | |