Fire Emblem Warriors: Three Hopes - The Loop
Play Sound

Confederacy of Vulcan
Political System:
Representative Republic
Foreign Policy:
Alliance Building
This article refers to the Vulcan species. You may instead be looking for the planet Vulcan.
Vulcans are a humanoid species native to the planet Vulcan. They were one of the founding races which created the United Federation of Planets, along with Humans, Andorians and Tellarites. Vulcans are a playable race in Star Trek Online, and belong to the Federation faction.
Physical features
[
]
In appearance, Vulcans are very similar to Humans, except for their pointed ears and upwards pointed thick eyebrows. They are more similar in appearance to Romulans, as both originated from the same species. Vulcan males very rarely have facial hair such as beards. Vulcans tend to have pale skin, sometimes with a slight green tint; however, Vulcans with dark skin are not unheard of, such as Tuvok. A Vulcan lifespan is about two centuries. They are also physically very strong, with natural strength up to three times greater than that of the average human.
Culture
[
]
Vulcans are very well known for their strict adherence to logic and for their honesty. It is said that Vulcans do not lie, and some say Vulcans are incapable of lying; however, they will should they deem it to be the logical solution to a given situation. Although Vulcans are very logical beings, they still have spiritual beliefs. Some Vulcans still undertake arranged marriages, which are typically arranged by the parents when the child is still of a young age, normally under 10 years old.
Traits
[
]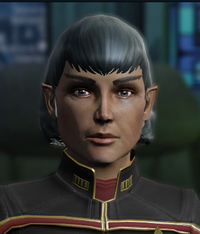 Species trait: Known for their logical minds and stoicism, Vulcans have extreme mental discipline and exceptional physical strength behind their veneer of implacability. Vulcans' force of will provides them with resistance to Psionic damage and any Placate or Confuse effects, while their physical strength increases their melee damage and gives their melee attacks a chance to knock down their foes.

On Ground: Click "Mental Discipline" to free yourself from Hold effects. Bonus resistance to Psionic, Placate, and Confuse.
On Ground: 0.15 bonus to Melee damage.

15% chance to knock down the target of your melee attacks.

Available
NPCs
[
]
See also D'Kyr Science Vessel (Mob)
See also
[
]
External links
[
]
---