Fire Emblem Warriors: Three Hopes - The Loop
Play Sound

Weyoun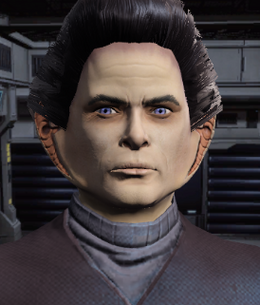 Weyoun is a Vorta clone serving the Dominion. Weyoun's earlier clones served the Female Changeling during the Dominion War. His last clone was believed to have been killed in 2375, however his line has survived into the 25th century.
History
[
]
Weyoun 4-8
[
]
Weyoun was first met by Starfleet in his 4th incarnation. He was tracking down rogue Jem'Hadar attempting to reactivate an Iconian Gateway on Vandros IV and suggested that the crew of the U.S.S. Defiant aid him in this task. He was killed by his own Jem'Hadar at the end of the mission.
Weyoun 5 became the liaison with the Cardassians on their entry to the Dominion in 2373. He served on Deep Space 9 during the Dominion occupation of it at the start of the Dominion War. He later died in a transporter accident orchestrated by Damar.
Weyoun 6 was found to be "defective" in the Founder's eyes, as he challenged the logic of the war and defected to serve Odo. Weyoun 7 was activated who pursued his predecessor. Weyoun 6 committed suicide in exchange for sparing Odo, but not before telling Odo that the Founders were dying. Weyoun 7 was killed later that same year by Worf who was held captive by the Dominion.
Weyoun 8 orchestrated the Dominion-Breen alliance and the sidelining of the Cardassians that led to their later revolt. As his first act of rebellion, the former puppet leader Damar destroyed Weyoun's cloning facilities as personal revenge on him. On the last day of the war, Weyoun 8 was killed by Elim Garak in the Dominion headquarters on Cardassia. His death was lamented by the Female Changeling, but Garak was happy to hear he had no more clones remaining.
Weyoun 10
[
]
While it was believed that Weyoun 8 was his last clone, in 2409 Weyoun 10 was active in the Dominion. The Female Changeling only discovered this following her release from Facility 4028 and was happy to receive him again. He would later directly serve the Female Changeling once more.
Missions involved
[
]
Other involvement
[
]
Weyoun provides the sector space logs for the Gamma Quadrant.
After players have completed "Operation Gamma", they can hail Weyoun's vessel in sector space near the Bajor system; players can ask him what the Dominion knows about the Iconians and inquire as to Odo's whereabouts.
Notes
[
]
Gallery
[
]
External links
[
]
---