Whetu

Whetu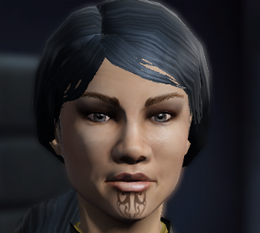 Military Rank:
Lieutenant
Profession(s):
Information giver
Lieutenant Whetu is a Human Starfleet Engineering officer assigned to the Utopia Planitia Shipyards. She serves as a Starship Systems Engineer with the Advanced Starship Design Bureau.
A Maori from New Zealand on Earth, she bears a distinctive moko kauae on her chin.
"Twin Tribulations": Lieutenant Whetu describes the nature of the mission to the player.
"Kobayashi Maru": Whetu describes the training scenario, and provides status updates throughout the mission.