GTA: The Criminal Enterprises - The Loop
Play Sound
Timeline Change Imminent!

---

This article or section contains information that no longer applies to the current version of Star Trek Online. It is provided only for historical purposes.
Xindok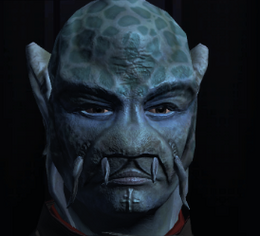 Profession(s):
Personal Weapons Vendor
Personal Equipment Vendor
Kit Vendor
Starship Weapon Vendor
Starship Equipment Vendor
Commander Xindok is a Benzite Starfleet Tactical officer who can be contacted by hailing the U.S.S. Montgomery Scott, which is part of Battle Group Omega in the Cestus System, Gamma Orionis Sector Block.
He carries Very Rare Mk X Ground Weapons, Body Armor, Personal Shields, Kits, Ship Weapons, Ship Shields, Deflector Dishes and Impulse Engines, which he sells in exchange for Dilithium.
Away Team Weapons – 4 Marks of Exploration

[

]
Antiproton
[
]
Disruptor
[
]
Phaser
[
]
Plasma
[
]
Polaron
[
]
Tetryon
[
]
Away Team Equipment – 5 Marks of Exploration

[

]
Body Armor
[
]
Personal Shields
[
]
Personal Kits – 24 Marks of Exploration

[

]
Engineering Kits
[
]
Science Kits
[
]
Tactical Kits
[
]
Ship Weapons – 7 Marks of Exploration

[

]
Antiproton
[
]
Disruptor
[
]
Phaser
[
]
Plasma
[
]
Polaron
[
]
Tetryon
[
]
Ship Equipment – 52 Marks of Exploration

[

]
Ship Shields
[
]
Impulse Engines
[
]
Deflector Dishes
[
]