Y'Dren

Y'Dren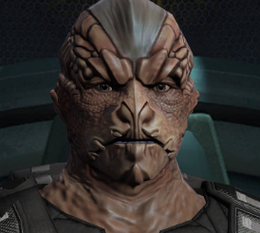 Profession(s):
Mission Contact
Y'Dren is a male Hazari commanding the V.S.W. Afan. He assists the player in several missions against the Vaadwaur.
"The Dragon's Deceit": The player meets Y'Dren in the Kartella System where he completes a contract to provide the player with a holoprojector designed to disguise a starship as a Vaadwaur vessel.
"Alliances": The player and Neelix meet Y'Dren in the Neles System where he represents the Hazari in negotiations with the player to join the Delta Alliance to counter the threat of the Vaadwaur. Y'Dren gladly agrees to a contract of cooperation entailing that his biggest rival N'Keden has to be extradited to the Benthan Guard.