Yellowstone Class Runabout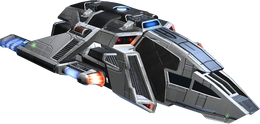 Hull:

| | |
| --- | --- |
| Level 1: | 6000 |
| Level 5: | 6300 |
| Level 10: | 7800 |
| Level 20: | 10800 |
| Level 30: | 13800 |
| Level 40: | 16800 |
| Level 50+: | 21600 |
Matter-Antimatter
Smaller than a starship but larger than a shuttlecraft, the Yellowstone is the newest Runabout in the Federation line. Like other Runabouts, the Yellowstone is often used as a tow vehicle. It comes equipped with a Tractor Beam to handle these utilitarian missions.
Overview
[
]
The Yellowstone comes with an advanced Tetryon-Plasma Engine. This engine grants a +32 bonus to your Starship Warp Core Potential. The Tetryon-Plasma can also be ejected behind the Runabout. Any enemy ship that passes through the Tetryon-Plasma cloud will be slowed and may have its engines knocked offline.
It can be purchased from the Zen Store for 500

, or claimed from the First Time Buyer's Pack which unlocks after your first Zen purchase through the Arc website or Arc application (Steam purchases excluded). Like other account wide Zen Store unlocks, it becomes available for all Starfleet and Starfleet-aligned Romulan Republic characters on an account, freely reclaimable after being discharged.
A non-combat pet [Yellowstone Runabout] is included with acquisition.
Class variants
Class
Information


Danube-class

with mission pod

SKIN UNLOCK: Free

---

The Danube-class was introduced in 2368. It can be customized with a mission pod.





Mirror Danube-class

with mission pod

SKIN UNLOCK: Mirror Universe Danube Class Runabout

---

The Terran Empire version of the Danube-class.


Yellowstone-class

mirror variant

SKIN UNLOCK: Free with this starship

---

The Yellowstone-class is the latest version of the Starfleet runabout. The Terran hull material can be applied to the Yellowstone if the Mirror Danube-class is available.
Standard configuration
[
]
Federation starships come with standard equipment and weapons of the lowest mark available at the ship's minimum rank. The items provided are appropriate to the type of vessel and its related playing style.
Ship comparison
[
]
The following table compares the Yellowstone Class Runabout with other Federation small crafts.
Ship

Rank

Tier

Hull

 
 
 

Uni

BOffs

IR

Cost

Captain's Yacht

1

1
6000
0.6
0.55
2
0
✗
1
1
1
2
✗
✗
22
0.2
100
400
Federation Shuttlecraft

1

1
5000
0.5
0.5
2
0
✗
1
1
1
1
✗
✗
28
0.26
100
20,550
Aeon Timeship

1

1
5000
0.5
0.6
2
0
✗
1
0
2
1
✗
✗
28
0.33
300
Class F Shuttle

1

1
5000
0.5
0.5
2
0
✗
1
1
1
1
✗
✗
24
0.2
100
2,000  • 1
Delta Class Shuttle

1

1
6000
0.6
0.6
2
0
✗
1
1
1
1
✗
✗
26
0.24
100
500
Type-7 Shuttlecraft

1

1
4000
0.4
0.5
2
0
✗
1
2
0
1
✗
✗
22
0.22
100
Type-8 Shuttlecraft

1

1
4000
0.4
0.4
2
0
✗
0
1
0
1
✗
✗
28
0.18
100
20,550  • 1
Type-10 Shuttlecraft

1

1
5500
0.55
0.5
2
0
✗
1
1
1
1
✗
✗
25
0.22
100
2,250
Danube Class Runabout

1

1
6000
0.6
0.5
2
0
✗
1
1
1
1
✗
✗
24
0.2
100
34,250
Tal'Kyr Support Craft

1

1
6500
0.65
0.6
2
0
✗
0
1
2
2
✗
✗
15
0.15
100
2,000
Stalker Stealth Fighter

1

1
5500
0.55
0.5
2
0
✓
1
1
1
1
✗
31
0.28
100
500
Peregrine Attack Fighter

1

1
5500
0.55
0.5
2
0
✓
2
1
0
1
✗
✗
33
0.3
100
500
Yellowstone Class Runabout

1

1
6000
0.6
0.5
2
0
✗
1
1
1
1
✗
✗
24
0.2
100
500
Mirror Universe Danube Class Runabout

1

1
6000
0.6
0.5
2
0
✗
2
1
0
1
✗
✗
24
0.2
100
Admiralty ship
[
]
Admiralty Ship
3
4
3
5x Critical Rating from ALL Stats
Gallery
[
]
External links
[
]